Paintball in Madrid: Book The Best Shooting Package in Madrid!
Our paintball in Madrid is a great idea if you are looking for that afternoon of adrenaline and extreme action. With one of the very best outdoor venues in Madrid we promise a day of exhilarating games that will really separate the sharp shooters from the duds! Choose from our various packages which are suitable for all budgets and enjoy a day on the battle field of pure thrills. Our low cost package includes: Private transfers by minibus, all equipment, protectors, paintballs and private grounds. For further information on our other options please email or call one of our team and we can advise you further.
With more than 12 hectares of terrain and multiple scenarios our paintball in Madrid packages are just the ticket for that adrenalin kick your group are looking for. We offer exceptional grounds which are located 20 minutes from the historic centre. So minimal time commuting, allowing the group to fit in another one of our other brilliant day activities. The complex offers superb high spec games and the very best facilities that are both diverse and unique. With a multitude of game situations such as: forests, bunkers, buildings in ruins and battle of trenches your group will experience a day in paintball heaven!
Paintball Grounds in Madrid: Combat, Adrenaline and Action!
Our paintball in Madrid is open to all group profiles and with our various game scenarios there are packages for everyone. The event is a huge favourite for stag do's in Madrid and provides that perfect opportunity for the lads to combat against one another and enjoy an action packed afternoon. Our activity will start with our English speaking guide picking you up from the accommodation.
En route he/she will run you through the itinerary and explain certain protocols of the event, safety etc. On arrival our instructor on the grounds will then present to you all the game options and get you all kitted out for the epic battle. You will have a choice of 6 areas that cover more than 12 hectares, its up to you which ones you choose to use. Each offer there own strategic identities so choose wisely and get ready to go to war!
What Paintball Scenarios and Obstacles are Available?
With the grounds covering large areas there are many obstacles that offer a range of scenarios at our paintball in Madrid. Tactical situations that will really put your strategic skills to the test. Our river scenario is extremely popular, the objective here is to try and cross the water without being caught and shot at. Its not as easy as it seems as there will be various obstacles along the way that will add to the difficulty of the task. You can also try our abandoned city option, here you will have to avoid snipers and the enemy using the stealth approach to escape. Both scenario's are great fun however, will be a huge test of your agility and awareness. Ready for the challenge?
We also offer the famous "Capture The Flag" scenario. For those of you that are not familiar with the concept, let us tell you more. The groups will be split into teams and each will have a flag near their main base. The objective is to then try and capture the flag of the opposition. Easy right? its not when you are also trying to defend your own flag! The group will have to use all there tactical awareness and agility to come out as winners!
Paintball Package in Madrid: Useful information
Our paintball games are open from Monday to Sunday.
Opening hours are from: 10:00 to 19:00 and until 21:00 on weekends.
Our activity takes place in perfect surroundings with a superb complex.
Please make sure your group are dressed appropriately for the event. Sportswear is recommended.
The venue offers a bar where you can enjoy a well deserved pint after the games!
The event is ideal for stag do's coming to Madrid looking for that brilliant outdoor activity.
Paintball in Madrid: What is included
Return private transfers from your accommodation in Madrid.
English speaking guide.
Our sessions include all the protective equipment (mask, glasses and overalls)
200 balls per player. Please speak to our team if you wish to add further refills.
A safety briefing and supervision by professional instructors.
How to book your Paintball experience with Your Spain Weekend?
Send a free quote-request online:

If you would like to book of our Paintball in Madrid please use our free and non-binding request form below. One of our team will respond within 12 hours with a personalised quote.

Contact our team by phone:

You can also contact our offices directly by phone or whatsapp. Our UK team can be reached in Spain on +34 62 52 70 68. Our office opening hours are Monday to Saturday from 10:00 to 20:00.
Check out our other options and events in Madrid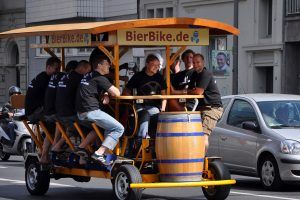 Beer Bike Ride
Drinking and sight seeing is what is on offer here. A truly boozy way to tour the capital. Our Madrid beer bike is a definitely recommended when visiting the city.
Baby Bull Running
Lads need that one event to really remember the stag weekend? Check out our epic Baby Bull Running event. Bulls, Beer and BBQ lunches!