Lisbon Bubble Football Lisbon: Football Like You Never Imagined!
In need of a hilarious and fun group activity? Lisbon bubble football offers just that. Your Spain Weekend have taken the beautiful game and added there own twist. Our event is perfect if you are looking for a fun and unforgettable experience in the Portuguese capital. They are suitable for all groups, especially if you are celebrating a stag, birthday or corporate weekend away.
Our agency offers both indoor and outdoor facilities each providing: Locker rooms, zorbs, shower facilities and 1 hour of games. Our Lisbon bubble football event will allow you to have hilarious fun with friends and break the standard rules of football! So boys and girls ready to showcase those Ronaldo and Messi skills?
For those of you who are unaware of what the bubble football event involves please keep on reading for a quick description. Lisbon bubble football involves most of the excellence of the beautiful game, however with a twist. The first major difference is climbing into a giant inflatable bubble and preparing yourself to getting bounced, rolled and in some cases performing some crazy acrobatics! The game itself is very similar to a normal football match, however this version involves fits of laughter, no real skill set and best of all no VAR to overrule any decisions!
Our Lisbon bubble football event is played on professional grounds all very close to the city centre. We offer both an indoor and outdoor option and depending on your preference we can entertain at either. The event can be played by all group profiles (Stag and hen, sports teams, school trips or corporate getaways) wishing to combine entertainment and a sporting activity.
Your Spain Weekend offer an exceptional event that is both fun and incredibly hilarious. Our activity also includes the following: Return private transfers, pitches, zorbs, private changing rooms and of course a ball! We can also organise a sexy referee! Please speak to one of our team for further information.
Lisbon Bubble Football: Perfect For Stag, Corporate Or Birthday Weekends!
Lisbon bubble football is a superb alternative to the worlds favourite sport. The event has got huge presence in many nations and its difficult not to get caught up in the game once you are dressed in your inflatable bubble. Each pitch will accommodate 6-11 players and the participants will get a chance to showcase there football yet gladiator like skills! We don't use the word "gladiator" light-heartedly as here you will have to deal with being bounced around from pillar to post!
The big difference being, It is completely legal! From start to finish you can safely bump, barge and bash your way through a game of football! In summary, Lisbon bubble football is the perfect way to provide some hilarious laughs, great video footage and the experience of playing the beautiful game with a twist. So, if you are a stag/hen do, corporate group or just friends visiting the Portuguese capital drop in and let us showcase this cracking event.
With our Lisbon bubble football package we aim to make the event as stress-free and easy as possible. The day will start with our English-speaking guide meeting you at your accommodation and accompanying your group to the venue. The journey to the pitches are located less than 20 minutes from the city centre. Once there, you will be given a quick briefing before being kitted out with a zorb/bubble for each player. Its then up to you and your group to showcase your abilites and enjoy the 60 minute event!
Lisbon Bubble Football: Additional Information And Timetables
Our bubble football activity in Lisbon is available all year round from Monday to Sunday.
Zorbing football games can take place on real soccer fields or indoor facilities.
Our bubble football games are available every day of the week from 10:30 to 20:00.
It is very hot in Lisbon and even more so with a bubble. We therefore strongly suggest that you organize your game at the end of the morning or at the end of the afternoon to avoid the scorching sun.
Equip yourself with sports clothes (shorts, t-shirt and trainers) and all the necessary shower essentials.
Lisbon bubble football is brilliant if you're taking part in a stag party.
Lisbon Bubble Football: What Is Included
A local guide to accompany you to the venue.
Private transfers by minibus or public transport.
Our pitches (Both outdoor and indoor) are located 30 minutes from downtown Lisbon.
1 hour of games.
A trained professional on site.
Your own private pitch.
Private changing rooms.
Zorbs.
Shower facilities.
How To Book Lisbon Bubble Football With Your Spain Weekend?
Send a free quote-request online:

If you would like to book our Lisbon bubble football package then please use our free and non-binding request form below. One of our team will respond within 12 hours with a personalised quote.

Contact our team by phone:

You can also contact our offices directly by phone or whatsapp. Our UK team can be reached on Spain +34 62 52 70 68. Our office opening hours are Monday to Saturday from 10:00 to 20:00.
We also have a range of other great activites in Lisbon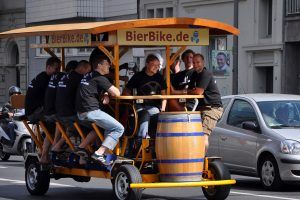 Beer bike
Pedaling the streets of Lisbon whilst drinking, what better way to enjoy and tour the city. The No 1 beer bike tour in the city.
Paintball
Take part in the very best paintball grounds Lisbon has to offer. Brilliant games and facilities. Perfect for a stag do.
Bubble Football
Try our Bubble Football game and enjoy the best match with a twist! A brillant event to take part in when in the capital