Madrid Escape Rooms: The Most Enthralling Gaming Experience!
In need of that fun team event? Then our Madrid escape rooms are a must in the capital! Our games are an unforgettable experience and an event not to be missed when in Madrid. Madrid escape rooms with Your Spain Weekend are ideal for groups that like to solve complex puzzles, answer riddles and like to put there Sherlock Holmes cap on! The aim of the games are to race the clock trying to solve various clues that eventually lead to getting out of the locked room. An incredibly fun group activity that will require you to be quick, smart and imaginative to get out of the traps and find the exit. So are you up to the challenge?
Your Spain Weekend offers the best escape rooms and games in Madrid and allows you book easily and at great prices. Our games include 60 minutes of complex games to decode complex puzzles and find the different clues to eventually discover the hidden secret of our mystery chamber. Madrid escape rooms with Your Spain Weekend are funny, incredibly challenging and will delight all groups looking to play detective for the day!
Madrid Escape Rooms: Follow The Right Trail!
The world of escape games has fast become a fantastic form of entertainment which is captivating more and more audiences every day. This team game (between 2 and 6 players per room) gives groups the opportunity to live truly unusual experiences and discover unexpected worlds. Our Madrid escape rooms require real teamwork where everyone will have their role to play and requires logic, a sense of observation and speed. Want to know more? So here's what awaits you!
Have you always dreamed of playing private detective and solving real life events? If the answer is yes, then our Madrid escape rooms are just the ticket. To satisfy your detective cap, Your Spain Weekend offer 3 rooms with 3 different scenarios all of which provide different difficulty levels. In the first escape room, called the Museum Room, your mission here will be to enter one of the museum's rooms without being spotted and to steal a gold bar without triggering the alarms.
Our second scenario is called the Haunted Hall. Here you will have to use all your prowess to evade the spirits within. The room possesses a strange curse and you will have to solve the mystery of the curse and escape the uninvited guests inhabiting the house! Finally, our most arduous mission is that of the Mayan Temple Room, where you will search for the secret chamber of an ancient temple.
Your Spain Weekend offer this superb activity to all groups looking for that mystery solving escapade! So, whether you are visiting Madrid for a weekend break-away, organising a stag or hen party or looking for that corporate group event our escape rooms are perfect for all. Your Spain Weekend also provide you with costumes and all the necessary materials so that your group of friends can have unforgettable moments of laughter.
Additional Information:
Our Madrid escape rooms are open every day, weekends included.
Opening hours: Our escape and puzzle games are open from 10:00 am to 8:00 pm
Our games are translated in French, English and Spanish
We have 3 escape rooms with a total capacity of 8 players simultaneously
Our escape game takes place in the city centre between the metro stations of Bilbao and Alonso Martinez.
Your Spain Weekend also organise team building sessions geared towards corporate seminars
Madrid Escape Rooms: What Is Included
An escape game to choose from among our 3 stories
1 hour of play in one of our 3 private rooms
All the materialS to play (scenarios, clues, challenges)
A gift for the winning team of detectives
How To Book Your Madrid Escape Rooms With Your Spain Weekend?
Send a free quote-request online:

If you would like to book of our Madrid Escape Rooms please use our free and non-binding request form below. One of our team will respond within 12 hours with a personalised quote.

Contact our team by phone:

You can also contact our offices directly by phone or whatsapp. Our UK team can be reached in Spain on +34 62 52 70 68. Our office opening hours are Monday to Saturday from 10:00 to 20:00.
[botondevistxt]
Other activities and events in Madrid that may also be of interest
Bubble Football Madrid
Come and have fun with friends and try our superb bubble football game with a twist.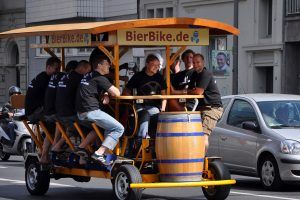 Beer Bike Madrid
Take part in our beer bike tour and explore the Spanish capital aboard our boozy two-wheeled bike.
Segway Tour
Explore the gorgeous Spanish capital with our unique and educational segway tours. A must when in Madrid.